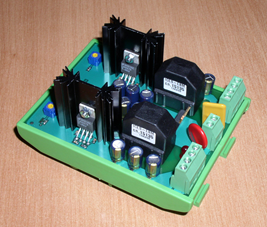 The AliDual power supply is an industrial equipment. The installation must be carried out observing respective norms DIN/VDE or the correspondents national prescription.
Input voltage: 24V DC
Output voltage: 12V DC 3A and 5V DC 3A, short-circuit test and no load operation.
| | |
| --- | --- |
| Input values | Output values |
Input voltage: 24V DC

Range of input voltage from 18V to 38V

Max efficiency at full load: 82%

Input current at full load (24V): 2,6A

Max of power : 62W

Continuous output voltage : 12V+/- 1% 5V+/- 1%

Output Noise Voltage:

<150mVss Remaining noise

<240mVss at max. load

Output direct current: 0-3A
Environment
Storage and transport temperature: -25…+85°C
Working temperature: 0…+60°C
For the working with output permanent current 3A reduce the limits of 15 °C
Class of humidity sec. EN60721 climatic classification 3K3
Air auto-cooling
Protection and watchfulness functions
Static limitation of current 1,1-1,3 I nominal
In case of output short-circuit: self-starter
Autorestoring integrated fuse in 3A input – NON replaceable in case of breakdown ask for assistance of specialized personnel; an incorrect reparation can cause irretrievable damage to the feeder and to the connected instruments.
The output voltage regulation is realized in the factory and can be done only by specialized personnel.
In case of not-official assistance, the constructor guarantee degenerates.
Norms
Protection degree IP20 sec. IEC 529
Safety sec. EN 60950: SELV
Interference sec. EN 50081-1
Protection against radio interference se. EN 55022, value curve B limits
Trouble resistant: EN 50082-2 incl. A4 table
Assembly
A device of protection (fuse) for the income line and a device to disconnect the feeder from the income voltage must be previewed.
Connection and allocation of screw connectors
For the connection is advised a section of the cable between 1,5mm2 and 2,5mm2 (16…12 AWG). For the tightening of the screw connectors must be used a 3,5mm edged screwdriver. Advised tightening couple 0,5 … 0,7 Nm.