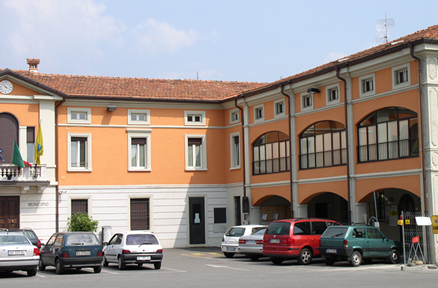 Today the municipal authorities, thanks to wireless technology, can easily deploy a low cost wide-band network: a model sustainable at economical and environmental level. The wireless connections that we propose have a very low cost but an high efficiency, in addition to an easy integration in the urban architectural environment. Thanks to this new technology it is possible to connect to the Internet without being physically connected to the telephone network, with a strong cost reduction.
Our solution offers a lot of functional advantages and allows to transmit at speed up to 54 Mbit/s using small antennas.
The public buildings can be connected each other in order to allow data and document exchange, but always at the highest security level thanks to an enciphered connection and to an Internet access protected in real time with a Firewall and Proxy server.
We propose complete solutions, from a simple starting point to the realization of complex systems.
The technologies used are conforming to the IEEE 802.11 standards, with open source software based on Linux; everything is engineered for a complete automatic solution that doesn't need manual intervention to work day after day.
You can see in this page a photo of Trenzano's city hall, a town near Brescia, where we have realized a wireless connection between the principal publics buildings (elementary and high school, library and town hall); they can now share in a secure way the information and develop new telematic and applicative services..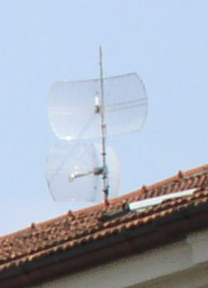 The antenna are very heavy-duty, have a small size and don't cause esthetic problems for the modest visual impact.
The realization of the connection between the different city buildings has been possible through:
IEEE 802.11g standard at 2,45 GHz

Effective speed (FTP tested) 54 Mbps

VPN based on IPsec tunnel with coding of the transmitted data.

Internet surfing via Proxy

Ping time of 1 ms for every jump
You can chose to buy only the single parts (such as antenna, firewall, transmitter, bridge), have us do the planning or the installation too; the installation is simple and quick because there isn't anything to dig. In fact the wireless system uses the radio waves to transfer the data, thanks to a transmitting and receiving unit.
It has to be remembered that thanks to Wireless systems you can cut back the structural and maintenance costs and be sure of the security of the transmitted data. In fact using cables for data transmission doesn't mean more protection, the treat is only different, but always present.